The Macomb Fund helps Democratic candidates get elected to the Macomb County Board of Commissioners after the primary election.
Your support is appreciated!
Click here to make a contribution
Macomb Club was started in 2006 to dedicate resources and support to democratic candidates for Macomb County Commissioner. We've raised over $209,000 to spend on targeted races to ensure democratic values are represented in Macomb County!
Thank you to our 2023 contributors:
Peter Accica, Carole Bannister, Christina Bertrand, David Bonior, Judy Bonior, Dennis Bruck, Ed Bruley, Sherman Cottingham, Ryan Covert, Donna Danford, Warren Danford Jr, Ken DeBeaussaert, Michelle DeBeaussaert, Sarah DeMercurio, Cardi DeMonaco, James DeNardis, Alysa Diebolt, Debra Dorosh, Sarah Doyle, Bill Duemling, Nancy Duemling, Sameh Elhady, Jack Ellis, Joellyn Ellis, J.P. Faletta, Linda Flynn, Rick Flynn, James Foster, Tish Germain, Margaret Hader, Thomas Harkleroad, Linda Hartman, Judy Hartwell, Florence Hayman, Roger Heller, Susan Hier, Kevin Higgins, Doug Hill, Muriel Hinz, Susan Hoard, Russell Holtslander, J. David Ivers, Darlene Kaltz, Dick Kennedy, Pauline Kennedy, Veronica Klinefelt, Christine Koch, Linda Koch, James Kopas, Michael Labuhn, Joyce LaLonde, Leo LaLonde, David Leasure, Monika Leasure, Pamela Leidlein, Robert Leonetti, Andrew Levin, Loretta Lorenzo, Sarah Lucido, Patrick Maceroni, William McGlynn, Cynthia Melitz, Denise Mentzer, Joyce Michalik, Mark Michalik, Norinne Neville, Michael Notte, James O'Brien, Brad O'Donnell, Martha O'Kray, Lauren O'Meara, Barbara Perreault, Linda Pidutti, Judy Pritchett, Jean Prough, Caroline Reid, Joel Rutherford, Stephen Saph, Michael Shoemaker, Aaron Squeo, Sarah Stovall, Cynthia Taylor, Samuel Taylor, Nancy Ventimiglia, Barbara Wojtas, Tekla Yokich, Tracey Yokich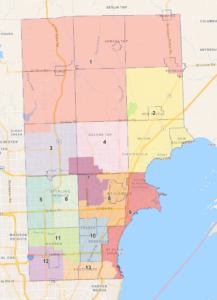 2022 Efforts
59,000 mailers sent in three targeted districts.
2020 Efforts
62,400 mailers sent in four targeted districts.
2018 Efforts
#### mailers sent in ## targeted districts.
2016 Efforts
62,500 mailers sent in two targeted districts.
2014 Efforts
50,600 mailers sent in three targeted districts.